Another exclusive for Spotify
Episode notes
Visit https://podnews.net/update/emma-chamberlain for all the links, and to get our newsletter.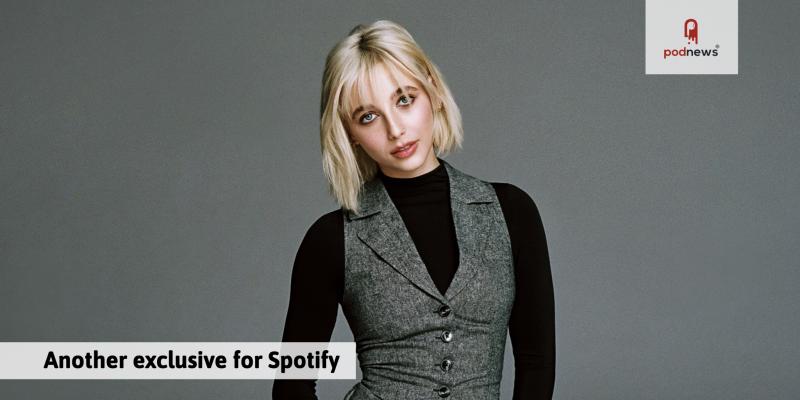 In this week's Podnews Weekly Review with Buzzsprout, Sam Sethi interviews Jay LeBoeuf from Descript, after the launch of a new version of the editing software and another funding round.
Spotify has signed another exclusive: Anything Goes with Emma Chamberlain, described as one of the world's most listened-to podcasts, will be exclusive on Spotify early next year. The deal includes video podcasts. The show was with UTA and Cadence13's Ramble Podcast Network, and is another loss for owner Audacy which is threatened with stock market de-listing.
The Infinite Dial New Zealand was published by Edison Research. 39% of adults in the country are monthly podcast listeners, placing them (just) above the US. 30% are weekly podcast listeners; and radio continues to do particularly well in the country.
Dan Misener at Bumper has looked at the new topics that Apple Podcasts is automatically allocating to shows (see our coverage on Nov 15, including our topics viewer). He's produced a number of network maps, designed to show links between different shows; and produced episode topic maps for every category in Apple Podcasts.
---
Classifieds
-
your job or ad here
Free Notion template for podcast production — Notion user? Produce an audio drama? Try out this template I created to streamline the production process. Simple but comprehensive and easily adapted to your needs. Also, free! 🎉
Indie Podcasters: Earn—and Grow—With Us — BackBeat Media: representing sponsorships for fiercely-independent podcasters for over 17 years. We also provide growth and promotion assistance, and will never ask you to track your listeners.
---
People
Podcast News
Focus
The Webby Awards have been honoring the very best of the Internet since 1996. Winners range from iconic early Web throwbacks, to recent viral sensations, to powerhouse digital icons that have withstood the test of time. By participating, you can place your work on the same stage as boundary-pushing talent, like past Webby Winners The Meteor, Audible, HBO, Apple, The Washington Post, The Daily, Crimetown, The New York Times, Pivot, California Love and Lemonada Media, to name a few. Help them continue celebrating the most innovative, creative, and transformative work that shapes the online zeitgeist.
Learn more, and enter the 27th Annual Webby Awards by our Final Entry Deadline of December 16th, 2022.
Gold supporters: Buzzsprout, Mowpod, Mamamia, Resonate Recordings, Paramount, SALT, Simplecast, audioBoom, Cohost, Podvine, Riverside.fm, Spreaker, Jar Audio, Podchaser, Awesound, ART19, Podpage websites, Focusrite, Evergreen Podcasts, The Roost, One of One Productions Podcast S, Podbean, Podmetrics, LWC Studios, TED Audio Collective, Knit, Engle, ElasticPod, Acast, Adonde Media, We Edit Podcasts, Megaphone, Disctopia, Knucklehead Media Group, Luminary
Silver supporters: Storic Media, Veritonic, Osiris Media, Rococo Punch, Cloud10, Storyboard, Jonekiri, Gumball, The Podcast Haven, Terra Firma Audio, Polymash, Omny Studio, Message Heard, SoundMedia, Podscribe, Bullhorn, Health Podcast Network, Julep Hosting, Julep Podcast Marketing, Rephonic, Ossa Collective, Barevalue, matchmaker.fm, Cleanvoice, Castbox, SPI, Transistor, 18sixty, Pacific Content, Blubrry, The Podcast Engineer, Sonic Influencer Marketing, Castos, Jam Street Media, Lemonada Media, Podcastpage, Oxford Road, Diversion Podcasts, Maps.fm, Hindenburg, NPR, Podcast Taxi, Notetracks, RockWater Industries, Heartcast Media50, Wondery, Podcast Ad Report, Latina Podcasters Network, Double Elvis Productions, Podcast Guests, Kast Media, Whooshkaa, Glisten Media Podcast Production, Optimal Living Daily, Transmitter Media, Zvook, Bababam, Headliner, StreamGuys, Hear.Here.Singapore, DAX, Ad Results Media, Content10x, Podcast Partnership, Rachel Corbett\s Podschool, EverythingWithPodcasting, She Podcasts, Revolver Podcasts, Sonix, Veritone One, Lower Street, adswizz, Stakhanov, Podigy, Adopter Media, Podknife, Podcast Movement, Margarita Noriega, School of Podcasting, Cleanfeed, Signal Hill Insights, Edison Research
Our personal supporters: Amy Woods, Jessica Alpert Silber, Armel, John, Mikel Ellcessor, Aaron Dowd, Gene Monterastelli, Neil Mody, David Lloyd, Matthieu Beauval, Matt Wade, Steven Goldstein, Andy Maher, Jason DeFillippo, Mirko Lagonegro, Gareth Evans, Kara Silverman, Dave Shaw, The Virtual Couch, Arion Potts, Liz Covart, Eric Hunley, Justin Jackson, Jack Rhysider, Bret Kinsella and Voicebot.ai, Karen Jackson, Josh Withers, CESLIE Armstrong, Oh God, What Now, Bradford Swanson, Stabl, Søren Hugger Møller, Patrick K. Walsh, Tom Webster, Mike Rapin, Ed Sullivan, Benjamin Masse, Eric Nuzum, Brett Johnson, Lindsay Graham, Eric John, Philip D Theophilus, Steve Stewart, Owen Grover, Pete Morgan, Joe Stone, Jody Avirgan, ShEvo (Sheila Dee & Evo Terra), Buzz Knight, Josh Muccio, Jeanette Burke, atkinsonjd, Erin Harper
Support Podnews, and our industry
Support us - this feed for Podfollow.com
Image: Spotify/Max Montgomery