Historical blog post resurfaces
Episode notes
Visit https://podnews.net/update/the-last-yard for all the links, and to get our newsletter.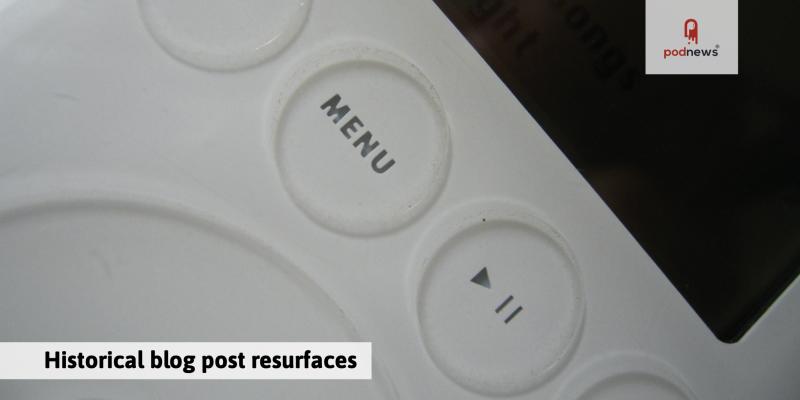 ---
Classifieds
-
your job or ad here
Getting less than 1,000 downloads per episode? — Download your FREE Podcast Growth Scorecard! This tool helps you focus your podcast marketing so that you can spend your time on the marketing activities that have the most impact on podcast growth.
Who grew 50% moving from Patreon to Supercast? 🤔 — Hidden Forces switched from Patreon and grew subscribers 50% in 3 months with a frictionless sign-up experience. Dozens more include Huberman Lab, FoundMyFitness and Canadaland. Read the case study.
Find podcasts by vibes — Find the perfect episode that will make you fall in love with the podcast. We're building a new discovery platform that prioritized your mood and vibes.
The Podcast Movement BLACK FRIDAY sale is ON! — Sign up for either of our 2023 events for a limited time to save a lot of $$$, get a free PM T-Shirt, PLUS be entered to win an awesome prize from our partners at Focusrite, RØDE, and Mackie! 🦃 🦃 🦃
---
Tips and tricks
The Tech Stuff
Last week, Samsung Free's new auto-play feature, which kicks in as soon as a user hits the "Listen" tab in the app (here's a quick screen capture), meant significant extra traffic for podcasts.
The audio useragent contains not just Dalvik/2.1.0 but also, later in the string, SM-**** Build/ (an identifier of the Samsung Mobile model being used). Dalvik is standard code used within Android - much like AppleCoreMedia has been for Apple.
Some podcast hosting companies have blocked the "Dalvik" useragent entirely. However, blocking Dalvik - even with the Samsung model numbers - will also block, among other things, Google News's audio player, which uses an identical audio useragent. At least one app powered by Podcast Index also uses this generic Dalvik useragent along with PodcastAddict, and Indian podcast app Gaana also retains Dalvik in its useragent.
As we covered on Friday, these downloads are coming from RSS feeds scraped using feedparser/6.0.8; for our own data, we're not seeing this scraper used for anything else. Marking the audio download with a code for the RSS useragent, as we do, could allow more accurate filtering of this traffic.
Podcast News
Gold supporters: Buzzsprout, Mowpod, Mamamia, Resonate Recordings, Paramount, SALT, Cohost, Simplecast, audioBoom, Podvine, Riverside.fm, Jar Audio, Spreaker, Podchaser, Awesound, Podpage websites, One of One Productions Podcast S, Acast, Podmetrics, Podbean, Engle, Knucklehead Media Group, Disctopia, ElasticPod, Luminary, Evergreen Podcasts, The Roost, Adonde Media, Focusrite, TED Audio Collective, Megaphone, LWC Studios, Knit, ART19, We Edit Podcasts
Silver supporters: Storic Media, Veritonic, Cloud10, Jonekiri, Storyboard, The Podcast Haven, Gumball, Rococo Punch, Osiris Media, Terra Firma Audio, Polymash, Omny Studio, Message Heard, SoundMedia, Podscribe, Bullhorn, Health Podcast Network, Julep Hosting, Julep Podcast Marketing, SPI, Podcast Ad Report, Podcastpage, Ossa Collective, Kast Media, Jam Street Media, Hindenburg, Wondery, Oxford Road, matchmaker.fm, RockWater Industries, Transmitter Media, Latina Podcasters Network, Podcast Guests, Castbox, Castos, Whooshkaa, 18sixty, The Podcast Engineer, Blubrry, Glisten Media Podcast Production, NPR, Headliner, Sonic Influencer Marketing, Podcast Taxi, Diversion Podcasts, Bababam, Heartcast Media50, Lemonada Media, Zvook, Optimal Living Daily, Maps.fm, Barevalue, Notetracks, Pacific Content, Cleanvoice, Rephonic, Double Elvis Productions, Transistor, StreamGuys, Rachel Corbett\s Podschool, Podcast Partnership, DAX, EverythingWithPodcasting, Ad Results Media, Hear.Here.Singapore, Content10x, She Podcasts, Veritone One, Margarita Noriega, Sonix, Podigy, Revolver Podcasts, Stakhanov, Cleanfeed, adswizz, Adopter Media, Podcast Movement, School of Podcasting, Podknife, Lower Street, Edison Research, Signal Hill Insights
Our personal supporters: Amy Woods, Jessica Alpert Silber, Armel, John, Mikel Ellcessor, Aaron Dowd, Gene Monterastelli, Neil Mody, David Lloyd, Matthieu Beauval, Matt Wade, Steven Goldstein, Andy Maher, Jason DeFillippo, Mirko Lagonegro, Gareth Evans, Kara Silverman, Dave Shaw, The Virtual Couch, Arion Potts, Liz Covart, Eric Hunley, Justin Jackson, Jack Rhysider, Bret Kinsella and Voicebot.ai, Josh Withers, Karen Jackson, CESLIE Armstrong, Oh God, What Now, Bradford Swanson, Stabl, Søren Hugger Møller, Patrick K. Walsh, Tom Webster, Mike Rapin, Ed Sullivan, Benjamin Masse, Eric Nuzum, Brett Johnson, Lindsay Graham, Eric John, Philip D Theophilus, Helene Pawlitzki, Steve Stewart, Owen Grover, Pete Morgan, ShEvo (Sheila Dee & Evo Terra), Jeanette Burke, Joe Stone, Jody Avirgan, Buzz Knight, Josh Muccio, atkinsonjd, Erin Harper, Lewis
Support Podnews, and our industry
Support us - this feed for Podfollow.com
Image: Dave & Lorelle