Anchor adds audio enhancement
Episode notes
Visit https://podnews.net/update/anchor-enhancement for all the links, and to get our newsletter.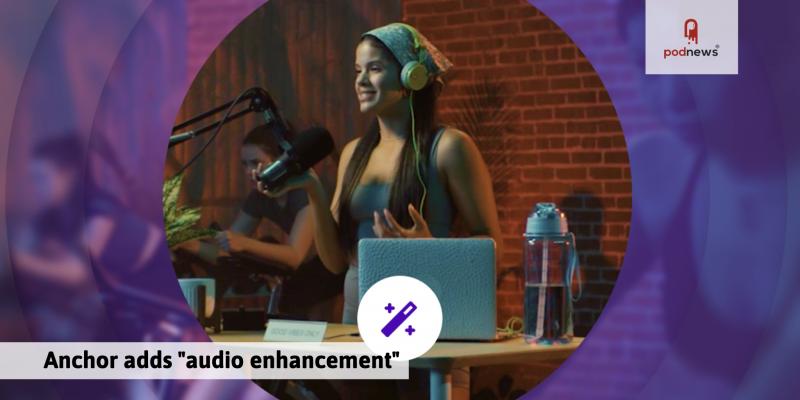 ---
Classifieds
-
your job or ad here
Scrappy Wins. — A podcast newsletter for brands & creators playing the long game of podcasting, who understand you aren't owed anything, & nothing is given freely... but if you stick with it, it will be worth it.
⭐️ Is your podcast ranking for the right keywords? — Listeners use the search bar to find new content on Spotify and Apple Podcast. Make sure your show ranks #1 when they type words related to your topic. Click now to start improving your rankings!
A Newsletter About a Single Minute of Audio — Every Sunday, The Big Minute recommends 60 seconds from a recent podcast episode, and dives deep into why you'll love it. The next issue goes behind bars with a chilling true story.
---
Yesterday, an unpaid role sneaked in to our jobs section. We are clear that we do not accept unpaid roles, and apologise for its inclusion.
People
Podcast News
Podcast ads in the wild
Gold supporters: Buzzsprout, Mowpod, Mamamia, Resonate Recordings, Paramount, Cohost, Simplecast, SALT, audioBoom, Podvine, Riverside.fm, Jar Audio, Spreaker, Podchaser, Awesound, Knit, Evergreen Podcasts, Engle, ART19, Megaphone, Adonde Media, Luminary, Podbean, Focusrite, ElasticPod, Disctopia, Podmetrics, One of One Productions Podcast S, The Roost, Knucklehead Media Group, LWC Studios, Acast, Podpage websites, We Edit Podcasts, TED Audio Collective
Silver supporters: Storic Media, Veritonic, The Podcast Haven, Osiris Media, Jonekiri, Gumball, Cloud10, Storyboard, Rococo Punch, Terra Firma Audio, Polymash, Omny Studio, Message Heard, SoundMedia, Bullhorn, Podscribe, Health Podcast Network, Julep Hosting, Julep Podcast Marketing, Glisten Media Podcast Production, SPI, Wondery, Heartcast Media50, Ossa Collective, Zvook, Sonic Influencer Marketing, Diversion Podcasts, Cleanvoice, Podcast Ad Report, Oxford Road, Lemonada Media, Pacific Content, matchmaker.fm, Kast Media, Podcast Taxi, 18sixty, Transistor, Optimal Living Daily, Bababam, Transmitter Media, Castbox, The Podcast Engineer, Headliner, Double Elvis Productions, Barevalue, Podcast Guests, Castos, Whooshkaa, Jam Street Media, Podcastpage, NPR, Notetracks, Hindenburg, Maps.fm, RockWater Industries, Rephonic, Blubrry, Latina Podcasters Network, Ad Results Media, Content10x, EverythingWithPodcasting, DAX, Hear.Here.Singapore, Podcast Partnership, StreamGuys, Rachel Corbett\s Podschool, She Podcasts, Stakhanov, adswizz, School of Podcasting, Lower Street, Cleanfeed, Margarita Noriega, Podknife, Podigy, Podcast Movement, Veritone One, Adopter Media, Sonix, Revolver Podcasts, Edison Research, Signal Hill Insights
Our personal supporters: Amy Woods, Jessica Alpert Silber, Armel, John, Mikel Ellcessor, Aaron Dowd, Gene Monterastelli, Neil Mody, David Lloyd, Matthieu Beauval, Matt Wade, Steven Goldstein, Andy Maher, Jason DeFillippo, Mirko Lagonegro, Gareth Evans, Kara Silverman, Dave Shaw, The Virtual Couch, Arion Potts, Liz Covart, Eric Hunley, Justin Jackson, Jack Rhysider, Bret Kinsella and Voicebot.ai, Karen Jackson, Josh Withers, CESLIE Armstrong, Oh God, What Now, Bradford Swanson, Stabl, Søren Hugger Møller, Patrick K. Walsh, Tom Webster, Mike Rapin, Ed Sullivan, Benjamin Masse, Eric Nuzum, Brett Johnson, Lindsay Graham, Eric John, Philip D Theophilus, Steve Stewart, Owen Grover, Pete Morgan, Joe Stone, Jody Avirgan, ShEvo (Sheila Dee & Evo Terra), Buzz Knight, Josh Muccio, Jeanette Burke, atkinsonjd, Erin Harper
Support Podnews, and our industry
Support us - this feed for Podfollow.com
Image: Anchor