Vietnamese audio company raises $1.8m for podcasting
Episode notes
Visit https://podnews.net/update/fonos-funding for all the links, and to get our newsletter.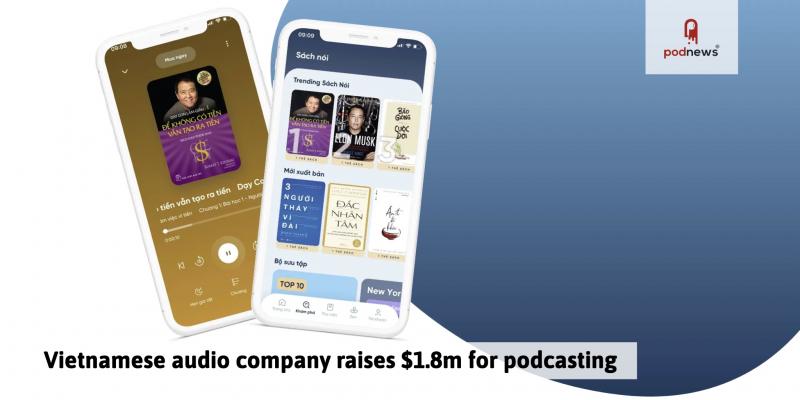 Thank you for subscribing - and, if it's a thing where you are, Happy Thanksgiving.
---
Classifieds
-
your job or ad here
Who grew 50% moving from Patreon to Supercast? 🤔 — Hidden Forces switched from Patreon and grew subscribers 50% in 3 months with a frictionless sign-up experience. Dozens more include Huberman Lab, FoundMyFitness and Canadaland. Read the case study.
Half Price Podcast Music Themes - Listen Now — Black Friday Sale - all our podcast themes and sonics are now half price. Including multiple mixouts and specifically mastered for podcasts. Buyout pricing, incredible quality. Studio Dragonfly.
The Podcast Movement BLACK FRIDAY sale is ON! — Sign up for either of our 2023 events for a limited time to save a lot of $$$, get a free PM T-Shirt, PLUS be entered to win an awesome prize from our partners at Focusrite, RØDE, and Mackie! 🦃 🦃 🦃
---
Wil Anderson and Charlie Clausen, long-time Australian indie podcasters, have been signed by LiSTNR. More than 400 episodes will move to the platform, though they'll continue to be made available elsewhere.
Luminary has launched in India. US pricing is $34.99 annually; pricing in India is ₹999.00 annually (US$12.20).

The company also appears to have a new logo: see it below in our supporters list.

Podcast music provider Studio Dragonfly is running a Black Friday sale of 50% of all podcasting and production music and sound effects on their website. Podnews uses them for our music.
In Brisbane, Queensland? Friday night at 6pm, come and find other podcasters at The Plough on Southbank. We'd love to see you.
Podcast News
From CBC Podcasts #4 is: Kuper Island An investigative series about one of Canada's most notorious residential schools – where unsolved deaths, abuse, and lies haunt the community and the survivors to this day. Hosted by Duncan McCue.
VistaTalks has won a gold Viddy Award. The podcast focuses on trending business topics and features industry leaders and global experts.
From Post Script Media, Climavores is a podcast for eaters who are trying to navigate the complex relationship between healthy food and a healthy planet. Read on to discover how you can watch a virtual live episode!
Focus
On November 30th, we're putting together a virtual live episode of our podcast Climavores, featuring author and NYU professor Marion Nestle.
For decades, Marion has been a towering figure in nutritional science. In a field littered with fad diets and bogus studies, she's been a voice of authority on the complicated relationship between food, politics and our health. Now she's written a book called "Slow Cooked" about the things you should and shouldn't eat – and who you should and shouldn't trust about food.
Marion joins Climavores hosts and renowned journalists Mike Grunwald and Tamar Haspel for a spirited conversation about food history, food justice, and how to eat for a healthy body and healthy planet. Stephen Lacey, co-founder and executive editor of Post Script Media, will moderate.
Register for free to join us online on November 30th, at 1:00 p.m. ET. And bring your questions for Mike, Tamar and Marion!
Gold supporters: Buzzsprout, Mowpod, Mamamia, Resonate Recordings, Paramount, Cohost, Simplecast, audioBoom, SALT, Podvine, Riverside.fm, Spreaker, Jar Audio, Podchaser, Awesound, We Edit Podcasts, Evergreen Podcasts, One of One Productions Podcast S, LWC Studios, Knucklehead Media Group, Podbean, ART19, Knit, Acast, TED Audio Collective, Disctopia, Luminary, Podpage websites, Megaphone, Focusrite, Engle, Podmetrics, ElasticPod, The Roost, Adonde Media
Silver supporters: Storic Media, Veritonic, The Podcast Haven, Storyboard, Jonekiri, Rococo Punch, Osiris Media, Gumball, Cloud10, Terra Firma Audio, Polymash, Omny Studio, Message Heard, SoundMedia, Podscribe, Bullhorn, Health Podcast Network, Julep Hosting, Julep Podcast Marketing, Notetracks, Optimal Living Daily, Pacific Content, Latina Podcasters Network, RockWater Industries, Transistor, Zvook, Barevalue, Podcast Guests, Sonic Influencer Marketing, Podcast Ad Report, Glisten Media Podcast Production, Oxford Road, Jam Street Media, Lemonada Media, Diversion Podcasts, Bababam, 18sixty, Transmitter Media, Wondery, Hindenburg, matchmaker.fm, Whooshkaa, Heartcast Media50, Double Elvis Productions, NPR, Castbox, Rephonic, Headliner, Castos, Podcastpage, Ossa Collective, The Podcast Engineer, SPI, Blubrry, Podcast Taxi, Maps.fm, Kast Media, Cleanvoice, StreamGuys, DAX, Rachel Corbett\s Podschool, Content10x, Hear.Here.Singapore, Podcast Partnership, Ad Results Media, EverythingWithPodcasting, She Podcasts, Lower Street, Adopter Media, Veritone One, adswizz, Margarita Noriega, Stakhanov, School of Podcasting, Cleanfeed, Podigy, Podcast Movement, Sonix, Podknife, Revolver Podcasts, Edison Research, Signal Hill Insights
Our personal supporters: Amy Woods, Jessica Alpert Silber, Armel, John, Mikel Ellcessor, Aaron Dowd, Gene Monterastelli, Neil Mody, David Lloyd, Matthieu Beauval, Matt Wade, Steven Goldstein, Andy Maher, Jason DeFillippo, Mirko Lagonegro, Gareth Evans, Kara Silverman, Dave Shaw, The Virtual Couch, Arion Potts, Liz Covart, Eric Hunley, Justin Jackson, Jack Rhysider, Bret Kinsella and Voicebot.ai, Karen Jackson, Josh Withers, CESLIE Armstrong, Oh God, What Now, Bradford Swanson, Stabl, Søren Hugger Møller, Patrick K. Walsh, Tom Webster, Mike Rapin, Ed Sullivan, Benjamin Masse, Eric Nuzum, Brett Johnson, Lindsay Graham, Eric John, Philip D Theophilus, Steve Stewart, Owen Grover, Pete Morgan, Joe Stone, Jody Avirgan, ShEvo (Sheila Dee & Evo Terra), Buzz Knight, Josh Muccio, Jeanette Burke, atkinsonjd, Erin Harper
Support Podnews, and our industry
Support us - this feed for Podfollow.com