Australian Podcast Awards announce winners
Episode notes
Visit https://podnews.net/update/australian-podcast-awards-win23 for all the links, and to get our newsletter.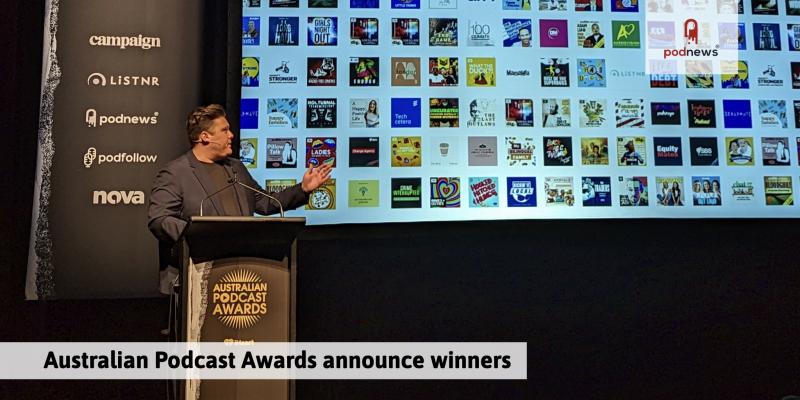 ---
Classifieds
-
your job or ad here
Getting less than 1,000 downloads per episode? — Download your FREE Podcast Growth Scorecard! This tool helps you focus your podcast marketing so that you can spend your time on the marketing activities that have the most impact on podcast growth.
Who grew 50% moving from Patreon to Supercast? 🤔 — Hidden Forces switched from Patreon and grew subscribers 50% in 3 months with a frictionless sign-up experience. Dozens more include Huberman Lab, FoundMyFitness and Canadaland. Read the case study.
School of Podcasting — The best website to learn how to podcast (since 2005) just added unlimited one-on-one consulting. Use the coupon PODNEWS to save 20% and have a podcast consultant in your pocket.
👀 A simple way to get more podcast downloads 👀 — Click now to find out what search terms people type on Spotify and Apple Podcasts to find top ranking shows in your niche. Add them to your own titles and start ranking for these words too!
Hiring: Podcast Producer — Content Allies produces B2B podcasts for our clients. You will be acting as the "Podcast Producer" for our clients. You will need to have experience not just editing but acting as a full producer.
---
You're on Mastodon? Us too. Follow us by searching for [email protected] (this email address) in the fediverse.
The Tech Stuff
The OPAWG user-agent lists are changing for the better. The new user-agents-v2 repo builds on the previous approach, and is quicker and more detailed.
Mastodon fun facts: if you add .rss to the end of someone's account page - like this - then you get an RSS feed. Audio files attached to posts are given a proper enclosure tag (there's an example in this feed), so theoretically every Mastodon user is already a podcaster. However, a) Apple Podcasts doesn't like these RSS feeds, though other apps are fine with them; and b) it'll add significant extra cost to your server instance's bandwidth bills so best not.
Lightning payment service Alby released v1.19.0 which adds support for Core Lightning nodes, one of the four major lightning implementations.
Podcast News
Gold supporters: Buzzsprout, Mowpod, Mamamia, Resonate Recordings, Paramount, Cohost, SALT, Simplecast, audioBoom, Podvine, Riverside.fm, Jar Audio, Spreaker, Podchaser, Awesound, Evergreen Podcasts, TED Audio Collective, Megaphone, Knit, Acast, Podmetrics, LWC Studios, Podbean, We Edit Podcasts, Focusrite, One of One Productions Podcast S, Luminary, Adonde Media, ART19, Podpage websites, ElasticPod, Knucklehead Media Group, The Roost, Disctopia, Engle
Silver supporters: Storic Media, Veritonic, Osiris Media, Rococo Punch, Cloud10, Gumball, The Podcast Haven, Jonekiri, Storyboard, Terra Firma Audio, Polymash, Omny Studio, Message Heard, SoundMedia, Bullhorn, Podscribe, Health Podcast Network, Julep Hosting, Julep Podcast Marketing, Lemonada Media, Kast Media, Headliner, matchmaker.fm, Glisten Media Podcast Production, Double Elvis Productions, Oxford Road, NPR, Jam Street Media, Blubrry, Castos, Maps.fm, Sonic Influencer Marketing, Transistor, Transmitter Media, Wondery, Barevalue, Latina Podcasters Network, Podcastpage, SPI, Zvook, Rephonic, Notetracks, Podcast Taxi, 18sixty, Optimal Living Daily, Whooshkaa, Cleanvoice, Podcast Ad Report, The Podcast Engineer, Pacific Content, Hindenburg, Castbox, RockWater Industries, Ossa Collective, Podcast Guests, Bababam, Diversion Podcasts, Heartcast Media50, Hear.Here.Singapore, Content10x, Ad Results Media, DAX, EverythingWithPodcasting, Rachel Corbett\s Podschool, StreamGuys, Podcast Partnership, She Podcasts, Podknife, Podigy, School of Podcasting, Stakhanov, Lower Street, Podcast Movement, Veritone One, adswizz, Sonix, Margarita Noriega, Adopter Media, Cleanfeed, Revolver Podcasts, Edison Research, Signal Hill Insights
Our personal supporters: Amy Woods, Jessica Alpert Silber, Armel, John, Mikel Ellcessor, Aaron Dowd, Gene Monterastelli, Neil Mody, David Lloyd, Matthieu Beauval, Matt Wade, Steven Goldstein, Andy Maher, Jason DeFillippo, Mirko Lagonegro, Gareth Evans, Kara Silverman, Dave Shaw, The Virtual Couch, Arion Potts, Liz Covart, Eric Hunley, Justin Jackson, Jack Rhysider, Bret Kinsella and Voicebot.ai, Karen Jackson, Josh Withers, CESLIE Armstrong, Oh God, What Now, Bradford Swanson, Stabl, Søren Hugger Møller, Patrick K. Walsh, Tom Webster, Mike Rapin, Ed Sullivan, Benjamin Masse, Eric Nuzum, Brett Johnson, Lindsay Graham, Eric John, Philip D Theophilus, Steve Stewart, Owen Grover, Pete Morgan, Joe Stone, Jody Avirgan, ShEvo (Sheila Dee & Evo Terra), Buzz Knight, Josh Muccio, Jeanette Burke, atkinsonjd, Erin Harper
Support Podnews, and our industry
Support us - this feed for Podfollow.com