Episode notes
Visit https://podnews.net/update/giveaway for all the links, and to get our newsletter.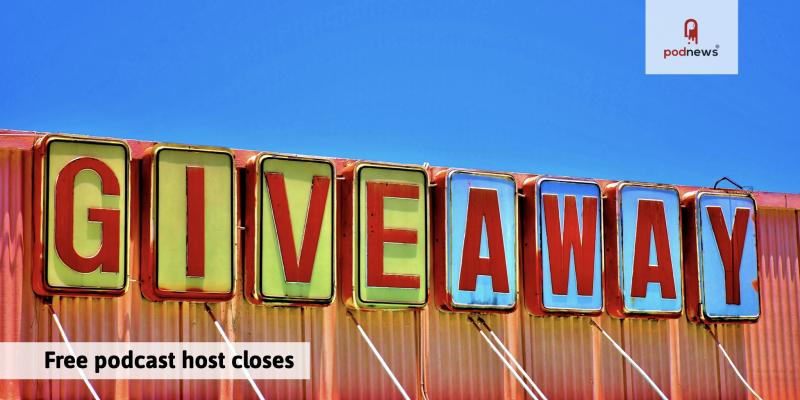 In Sounds Profitable with RedCircle this week, Bryan Barletta looks at the state of subscription podcasting. Podcast subscriptions are just moments away from being a normal part of our ecosystem. What's holding that future back today? Plus, he's joined by SoundStack CEO Jon Stephenson for a deep dive of the company's hosting and monetisation tool.
Libsyn has closed its free podcast hosting platform, Libsyn Studio. Launched nine months ago, it offered ad-supported free podcast hosting: the recording tool is now a feature for all paid Libsyn plans. The service lets you record directly from your computer into Libsyn, and assemble a show with custom intro and outros. Libsyn Studio accounts have been migrated to Libsyn 5.
RØDE is virtually giving away its streaming software Unify. "A powerful virtual mixing solution that allows streamers and gamers to take full control of their audio, including routing up to four microphones and six virtual audio devices into one easy-to-use mixer, creating fully independent sub-mixes for every output, adding studio-quality processing to microphones, and much more" normally costs AUD $69 for twelve months, but the price is just $1 for the year until Nov 30.
"Crazy", "Wow" and "Exactly" are some of the most popular words used in Joe Rogan's podcasts, according to a language study by Preply, while My Favorite Murder favours "Wow", "Totally", and "Man". The company has also done analysis on the most popular podcast searches by US state, and the most popular words in political podcasts: liberals like the word "family", while conservatives like "money".
---
Classifieds
-
your job or ad here
A Newsletter About a Single Minute of Audio — Every Sunday, The Big Minute recommends 60 seconds from a recent podcast episode, and dives deep into why you'll love it. The next issue goes behind bars with a chilling true story.
Half Price Podcast Music Themes - Listen Now — Black Friday Sale - all our podcast themes and sonics are now half price. Including multiple mixouts and specifically mastered for podcasts. Buyout pricing, incredible quality. Studio Dragonfly.
---
Podcast News
From CBC Podcasts #5 is: Sickboy Laughter is the best medicine, right? Join co-hosts Jeremie, Brian and Taylor for illuminating, insightful and hilarious conversations about what it's like to be sick with the people who experience it firsthand.
In this week's New Media Show, Todd Cochrane calls on advertisers to "grow some", and rails against companies offering services like "ad safety" and brand suitability. Gratifyingly, both Todd and Rob quote Podnews's current title sponsor, Barometer, as a company offering this service. Advertising in Podnews works!
UNBOXED is the first original podcast from UK production company Listen, in partnership with Jordan Schwarzenberger, co-founder of Arcade Media and manager of The Sidemen, one of the biggest creator collectives on the globe. The first two episodes drop today.
Podcast ads in the wild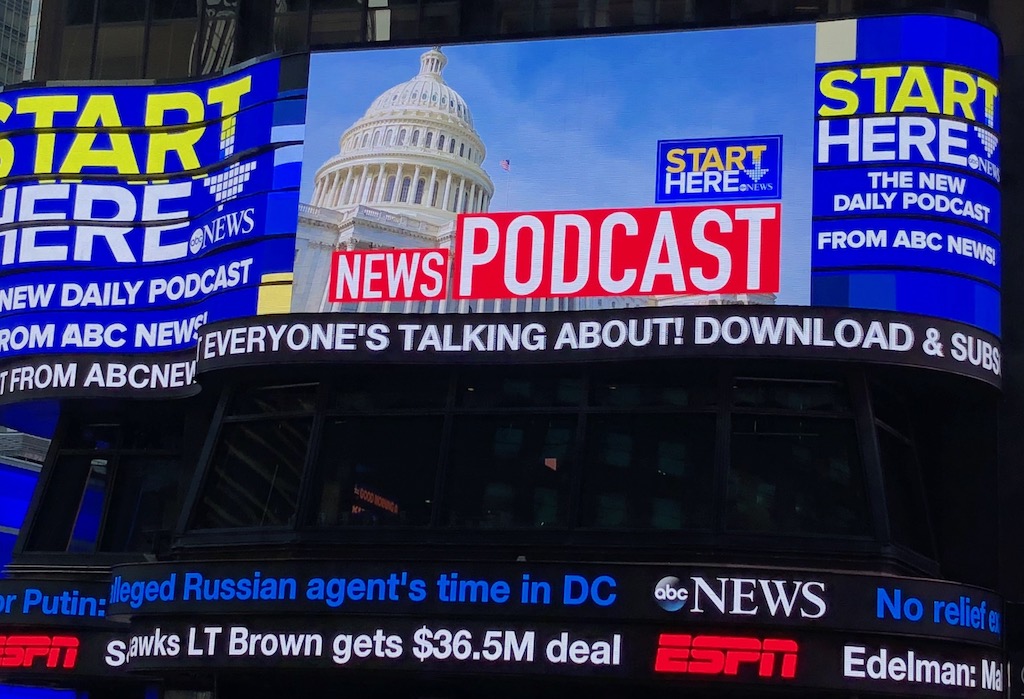 One from the archives: from March 2018, this was the launch of Start Here from ABC News, as shown on the "ABC SuperSign" in Times Square, New York NY, USA. Unlike some of the billboards we've shown recently, you'd be left in no doubt that this was a podcast. The ABC SuperSign is 3,865 square feet in size, which is 342 m2, half the size of a World Cup soccer pitch, or, and we know this will help, 0.000016 times as big as Belgium.
Gold supporters: Buzzsprout, Mowpod, Mamamia, Resonate Recordings, Simplecast, SALT, Paramount, audioBoom, Cohost, Podvine, Riverside.fm, Jar Audio, Spreaker, Podchaser, Awesound, Acast, One of One Productions Podcast S, We Edit Podcasts, Adonde Media, ElasticPod, Engle, LWC Studios, Disctopia, The Roost, Podmetrics, TED Audio Collective, Focusrite, ART19, Evergreen Podcasts, Podbean, Megaphone, Podpage websites, Luminary, Knucklehead Media Group, Knit
Silver supporters: Storic Media, Veritonic, The Podcast Haven, Gumball, Storyboard, Osiris Media, Cloud10, Rococo Punch, Jonekiri, Terra Firma Audio, Polymash, Omny Studio, Message Heard, SoundMedia, Bullhorn, Podscribe, Health Podcast Network, Julep Hosting, Julep Podcast Marketing, Podcast Guests, Podcast Taxi, Blubrry, Jam Street Media, Latina Podcasters Network, Whooshkaa, RockWater Industries, Cleanvoice, Pacific Content, Sonic Influencer Marketing, Optimal Living Daily, Podcastpage, Transistor, Lemonada Media, Double Elvis Productions, Oxford Road, Zvook, Castos, Maps.fm, Barevalue, Transmitter Media, Hindenburg, Bababam, Diversion Podcasts, SPI, 18sixty, Heartcast Media50, Wondery, The Podcast Engineer, Kast Media, Notetracks, Castbox, Headliner, Glisten Media Podcast Production, Podcast Ad Report, matchmaker.fm, NPR, Rephonic, Ossa Collective, Podcast Partnership, DAX, Ad Results Media, Content10x, Hear.Here.Singapore, Rachel Corbett\s Podschool, StreamGuys, EverythingWithPodcasting, She Podcasts, Podknife, Sonix, Cleanfeed, Lower Street, Podcast Movement, School of Podcasting, Podigy, Revolver Podcasts, adswizz, Margarita Noriega, Veritone One, Stakhanov, Adopter Media, Edison Research, Signal Hill Insights
Our personal supporters: Amy Woods, Jessica Alpert Silber, Armel, John, Mikel Ellcessor, Aaron Dowd, Gene Monterastelli, Neil Mody, David Lloyd, Matthieu Beauval, Matt Wade, Steven Goldstein, Andy Maher, Jason DeFillippo, Mirko Lagonegro, Gareth Evans, Kara Silverman, Dave Shaw, The Virtual Couch, Arion Potts, Liz Covart, Eric Hunley, Justin Jackson, Jack Rhysider, Bret Kinsella and Voicebot.ai, Karen Jackson, Josh Withers, CESLIE Armstrong, Oh God, What Now, Bradford Swanson, Stabl, Søren Hugger Møller, Patrick K. Walsh, Tom Webster, Mike Rapin, Ed Sullivan, Benjamin Masse, Eric Nuzum, Brett Johnson, Lindsay Graham, Eric John, Philip D Theophilus, Steve Stewart, Owen Grover, Pete Morgan, Joe Stone, Jody Avirgan, ShEvo (Sheila Dee & Evo Terra), Buzz Knight, Josh Muccio, Jeanette Burke, atkinsonjd, Erin Harper
Support Podnews, and our industry
Support us - this feed for Podfollow.com
Image: Don Agnello