The Podcast Show to return
Episode notes
Visit https://podnews.net/update/tps23-returns for all the links, and to get our newsletter.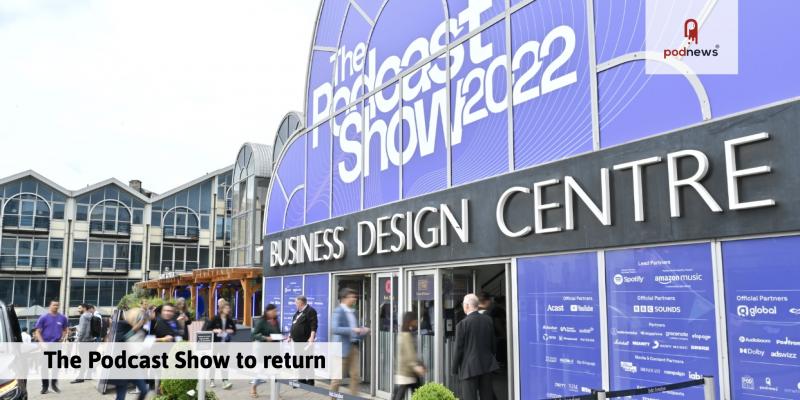 The Podcast Show in London has announced its return, on May 24-25 in Islington. The organisers have announced new features and events for the two days, including a preview night.
Seeing loads of downloads from a mysterious app called Dalvik? You're not alone; they're all coming from Samsung Android phones, and we understand that the downloads are related to Samsung Free, the company's podcast app.

The RSS user-agent that these downloads are from is feedparser/6.0.8 , which is used by Samsung Free (but which is used by others, too). Here's best practice for RSS crawlers and user agents.
---
Classifieds
-
your job or ad here
This Podcast is a Warm Blanket - The Perfect Show — I'm not selling anything. I make a pod called 'The Perfect Show' about little perfect things from the past, and new adventures trying to re-find them in the present. It's earnest and positive. Enjoy!
Half Price Podcast Music Themes - Listen Now — Black Friday Sale - all our podcast themes and sonics are now half price. Including multiple mixouts and specifically mastered for podcasts. Buyout pricing, incredible quality. Studio Dragonfly.
The Podcast Movement BLACK FRIDAY sale is ON! — Sign up for either of our 2023 events for a limited time to save a lot of $$$, get a free PM T-Shirt, PLUS be entered to win an awesome prize from our partners at Focusrite, RØDE, and Mackie! 🦃 🦃 🦃
---
Podcast News
From CBC Podcasts #3 is: Someone Knows Something was recently named one of the best true crime podcasts of all time by Rolling Stone. In its most recent season, The Abortion Wars, host David Ridgen digs into the murder of a New York doctor killed for performing abortions.
In Podnews Weekly Review this week, Sam Sethi and Podnews's Editor James Cridland discuss the week's podcasting news, and reveal that one bit of a previous show was actually recorded using a synthetic voice.
Focus
Winning a Webby Award is the Internet's highest honor. Since the first Webbys in 1996, the world's best independent creators, brands, agencies and organizations have entered work that has set the standard for digital innovation. When your team wins a Webby Award, you show the world that you know how to create great content for the Internet that breaks through and stands out. There's no better way to show potential clients and partners that your team is the one to work with.
Don't just take our word for it. Over 80% of Webby Winners reported that their award helped drive new business. Plus, The Webby Awards earned 5.8 billion media impressions from global media outlets last year. When you participate in the Internet's biggest night, the world takes notice.
Learn more, and enter the 27th Annual Webby Awards by our Final Entry Deadline of December 16th, 2022.
Gold supporters: Buzzsprout, Mowpod, Mamamia, Resonate Recordings, Simplecast, SALT, audioBoom, Cohost, Paramount, Podvine, Riverside.fm, Jar Audio, Spreaker, Podchaser, Awesound, Adonde Media, Evergreen Podcasts, Podpage websites, Podbean, One of One Productions Podcast S, TED Audio Collective, Knit, The Roost, Luminary, Acast, Engle, ElasticPod, We Edit Podcasts, Disctopia, Knucklehead Media Group, LWC Studios, Megaphone, ART19, Focusrite, Podmetrics
Silver supporters: Storic Media, Veritonic, The Podcast Haven, Storyboard, Cloud10, Gumball, Osiris Media, Rococo Punch, Jonekiri, Terra Firma Audio, Polymash, Omny Studio, Message Heard, SoundMedia, Bullhorn, Podscribe, Health Podcast Network, Julep Hosting, Julep Podcast Marketing, Latina Podcasters Network, Headliner, Pacific Content, NPR, Ossa Collective, Maps.fm, Hindenburg, 18sixty, Bababam, Podcastpage, Transmitter Media, Rephonic, RockWater Industries, SPI, Wondery, Zvook, Podcast Ad Report, Transistor, Optimal Living Daily, Cleanvoice, Castbox, Oxford Road, Whooshkaa, Barevalue, Lemonada Media, Glisten Media Podcast Production, Podcast Guests, Podcast Taxi, Sonic Influencer Marketing, Notetracks, Diversion Podcasts, Blubrry, Jam Street Media, matchmaker.fm, The Podcast Engineer, Castos, Double Elvis Productions, Heartcast Media50, Kast Media, Rachel Corbett\s Podschool, Podcast Partnership, Hear.Here.Singapore, Ad Results Media, StreamGuys, EverythingWithPodcasting, DAX, Content10x, She Podcasts, Margarita Noriega, Podigy, Lower Street, Podcast Movement, Veritone One, Podknife, Cleanfeed, Adopter Media, Revolver Podcasts, Sonix, Stakhanov, adswizz, School of Podcasting, Signal Hill Insights, Edison Research
Our personal supporters: Amy Woods, Jessica Alpert Silber, Armel, John, Mikel Ellcessor, Aaron Dowd, Gene Monterastelli, Neil Mody, David Lloyd, Matthieu Beauval, Matt Wade, Steven Goldstein, Andy Maher, Jason DeFillippo, Mirko Lagonegro, Gareth Evans, Kara Silverman, Dave Shaw, The Virtual Couch, Arion Potts, Liz Covart, Eric Hunley, Justin Jackson, Jack Rhysider, Bret Kinsella and Voicebot.ai, Karen Jackson, Josh Withers, CESLIE Armstrong, Oh God, What Now, Bradford Swanson, Stabl, Søren Hugger Møller, Patrick K. Walsh, Tom Webster, Mike Rapin, Ed Sullivan, Benjamin Masse, Eric Nuzum, Brett Johnson, Lindsay Graham, Eric John, Philip D Theophilus, Steve Stewart, Owen Grover, Pete Morgan, Joe Stone, Jody Avirgan, ShEvo (Sheila Dee & Evo Terra), Buzz Knight, Josh Muccio, Jeanette Burke, atkinsonjd, Erin Harper
Support Podnews, and our industry
Support us - this feed for Podfollow.com