Life's Booming
By Australian Seniors
Listen on
---
Links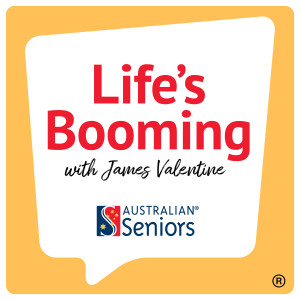 Join host James Valentine on Life's Booming as he explores the incredible stories of Aussie characters, from the adventurous to the love-struck. Across 21 inspirational episodes, Life's Booming explores life, love, travel, and everything in between.
Series 4: Against All Odds, be inspired by stories of resilience in the face of some of life's toughest challenges. Series 3: No Regrets, you'll hear what it's like having dinner with John Travolta, escaping Chairman Mao, and becoming a nun. Series 2: Dare to Date, is full of dating disasters and heart-warming tales of people who've found a soulmate later in life. And in Series 1: Grey Nomads, you'll hear what it's like to travel Australia solo with a disability, plus so much more. 
Get yourself comfy and settle in for some amazing tales.
Latest episode